Paying your money in
All registered schools should receive a welcome letter with paying in instructions. If you have misplaced this letter with your supporter ID, or haven't received your welcome pack yet, please complete and return this paying in form. Your supporter ID may also be found on your Number Day emails.
You can pay in money directly to Barclays Bank, via cheque, online or by phone. In addition to this, there are cashless options such as ParentPay, JustGiving and IRIS ParentMail.
JustGiving: Set up your school's fundraising page within our Number Day 2022 JustGiving link.
Raising money has never been easier with JustGiving QR codes. You can see your QR code by typing '/qrcode' at the end of your pages URL. Save or screenshot this and include on posters, emails and letters. Children can spread the word to their family and friends to encourage them to donate to your Number Day event, and make this the biggest one yet!
Remember to share your fundraising with parents and carers, we've got our letter you can share on your schools' social media site too.
IRIS ParentMail: NSPCC partner activation instructions.
Returning sponsor forms: You'll find instructions for paying in money you have raised within your welcome letter or the paying in form. If your school has sponsor forms to return to NSPCC to enable us to claim gift aid, please return them by confidential and secure post (such as second class signed for). Address details can be found within your welcome letter or the paying in form. If you have any queries in relation to paying in the money you have raised, please email numberday@nspcc.org.uk.
Why your support counts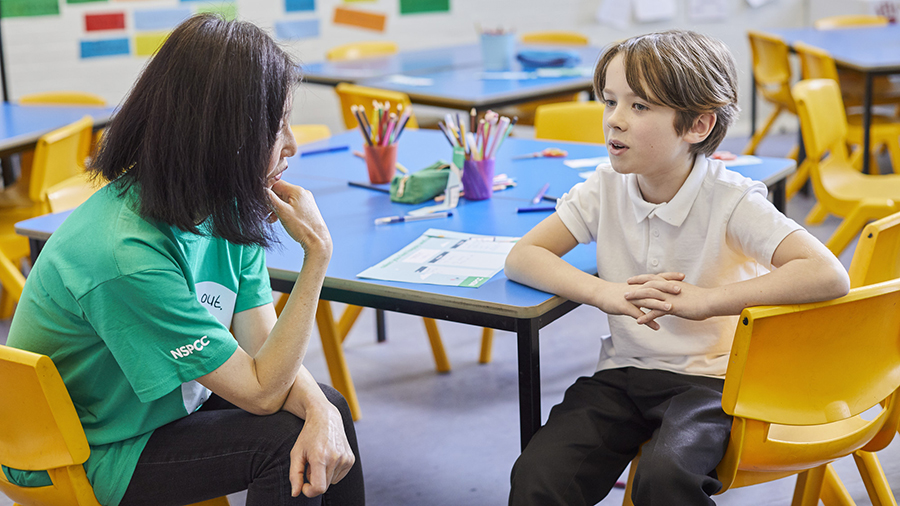 The money you raise could help the NSPCC run its Speak out Stay safe programme to help children understand what abuse is and what to do if they're scared or worried.
Caroline's seven year old son was sexually abused by a 13 year old friend of the family. Luke's behaviour had deteriorated over a period of months. After seeing one of the NSPCC's Speak Out Stay Safe assemblies, Luke disclosed the abuse to his mum. She believes that he would never have spoken out without the service. They reported what had happened to the police and Luke is now doing well.
"If it hadn't been for that assembly, I honestly think the abuse would still be happening. The Schools Service needs to keep happening so that children understand what is right and wrong. It gave my son the words to articulate what had happened to him and to be able to say it was not OK. "
Caroline*, Luke's mum
*Names have been changed.
Virtual maths lessons with Oxford University Press
EYFS pupils can watch Oxford University Press' virtual Number Day lesson, with Sue Cowley. Go for a trip to the Beach Cafe to explore number bonds and counting with Numicon. Sue is an experienced teacher, writer and presenter, whose specialisms are in the areas of behaviour management and creative approaches to teaching and learning. You'll need a piece of Numicon to hand out to each pupil. If you don't have access to physical Numicon shapes you can download and print paper versions from Oxford University Press.
KS1 and KS2 pupils can watch a virtual Number Day maths lesson with Professor Mike Askew. Mike began his career as a primary school teacher. He now researches, speaks and writes on teaching and learning maths. Mike believes that all children can find mathematical activity engaging and enjoyable, and develop the confidence in their ability to do maths.
Find more resources from Oxford University Press.
Dress up for digits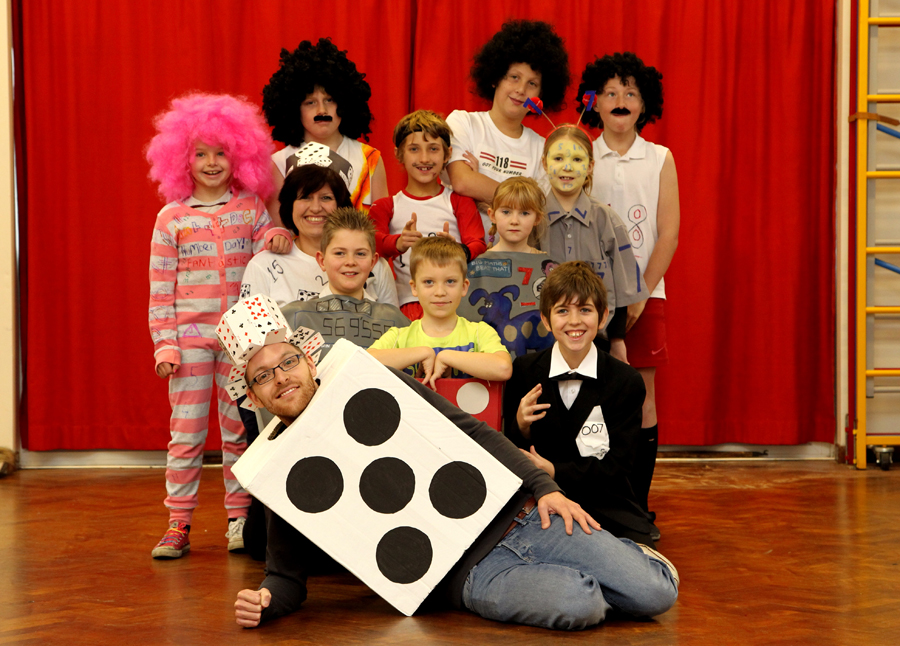 Simply ask your pupils and staff to wear an item of clothing with a number on it and bring in a suggested donation of £2. This can be a sports shirt or cap, even a onesie. Or why not get more creative as a dice or calculator!
Promotional materials and fundraising resources
Assembly plan, presentation and video
The best way to involve everyone at school is to hold a special assembly to launch your event. Our assembly plan, presentation and video can help you to explain the work of the NSPCC and why you've chosen to support our work through fundraising.
Games
We've got some fun ideas for Number Day games that can be done in small groups.
The teacher hides a variety of coloured balls or cards around the playground. The class is split into teams, and the coloured balls/cards are given a number value, ie: blue = 4. The teams need to collect as many as they can. The team with the highest value of the balls wins.
Lay a series of flash card equations on the floor in a line next to each other. Each player needs to move along their line shouting out their answers before they can move to the next one… who can beat the teacher to the end of the line? (This game could also be done on a white board)
Keeping children safe:
activities and resources
Why not use this opportunity to teach pupils about staying safe with our fun quizzes and resources?
We're also offering an online version of our Speak out Stay safe programme, so you can safely deliver vital safeguarding messages in the classroom. Available to all primary schools in the UK and Channel Islands, the programme includes a 30-minute virtual assembly introduced by Ant and Dec, plus supporting teaching materials.
For more resources to help your school keep children safe, explore our free teaching resources and lessons plans
Thanks to our partners

The Man Charitable Trust is Man Group's philanthropic trust, which focuses its grant giving on literacy, numeracy and programmes that help disadvantaged people.

Its work helps disadvantaged people engage with education and build the
necessary skills to improve their life
chances and employment prospects.

Oxford University Press has once again teamed up with the NSPCC to provide exciting Number Day activities.
These have been designed to have clear links to the maths curriculum and also put the fun into fundraising!