Gavin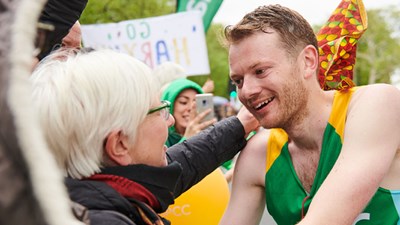 "I batch-cooked lunches, brought them into the office and sold them for £4"
In 2019 Gavin decided to live out one of his running dreams by completing the London Marathon.
"I chose a target of raising £2,200. This seemed daunting at first – almost as much as the training."
But Gavin was easily able to hit his target when he tapped into his hobbies, and his friends' skills.
Making a meal out of it
"I started a lunch club at work. I batched cooked a load of cheap but healthy lunches, brought them into the office and sold them for £4. I mostly made things like chickpea curry and dal, to keep costs down. And my colleagues were happy to support - £4 is cheaper than most other lunch options and it was an easy way for them to help my fundraising. Many even decided to give £10 or more for a lunch."
He also flashed his culinary skills at home, hosting dinner parties for friends. He asked them to donate what they thought the meal was worth.
"This was a great way to add to my fundraising total – getting to cook, eat and hang out with friends in the process."
A cut above the rest
But it wasn't just Gavin's skills in the kitchen that helped him reach his target. He also reached out to a friend who used to be a hairdresser to get in on the fundraising fun.
"She offered to give haircuts to her friends and workmates for a £15 donation. Thanks to her, I raised a good percentage of my target without lifting a finger!"
If you talk to your friends and family about how you plan to raise money, you might find they have different skills they can offer to help you fundraise.
Along with donations from family, friends and workmates, activities like these helped Gavin hit his target easily.
Kelly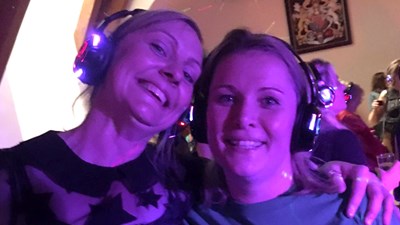 "I managed to get in contact with Bestival and was lucky enough to receive 6 free tickets to auction!"
Read Kelly's fundraising story
Kelly is running the London Marathon this year. But she's also come up with some great ways of raising extra funds.She's raised around £3000 already, enough to run Childline for over 2 hours! Find out how she did it:
Thinking outside the box
When it comes to fundraising, Kelly's kept things unusual.. She hosted a silent disco, alongside a silent auction that attracted crowds from her village, eager to bid and boogie.
"I managed to get in contact with Bestival and was lucky enough to receive 6 free tickets to auction! I also asked friends and family to offer their services. My Dad's a photographer and kindly donated some landscapes of the local area.
"Towards the end of the night we were selling hot dogs for £2.50 as the local butchers kindly donated 100 sausages, which was a really great boost to my fundraising as I only needed to buy the 10p roll."
Supper clubbing
"I've also run 'Pop-Up Restaurants', essentially inviting people to dinner where I cooked a three course meal - I was 'open' for 4 evenings and hosted about 8 people at a time."
Her guests were asked to donate what they think the meal was worth. "It was great to meet so many kind strangers from my village, I ended up joining them for dinner most nights."
Kelly's done an amazing job so far, all because she believes that every childhood is worth fighting for.
"Having been a prison officer in a Young Offender's Institute and a teacher for over 10 years I am more than aware that children from every type of background are potentially at risk of abuse and can benefit from the support of the NSPCC."
Sophie

"It can feel daunting asking people to donate. But just go for it. You'll be pleasantly surprised by how many people are keen to help. "
Read Sophie's fundraising story
As well as asking for cash, Sophie had the bright idea of asking her friends to donate their time and skills.
"I approached my fundraising target by breaking it up into manageable chunks. First, I organised a couple of supper clubs, themed around Burns' night (going back to my Scottish roots). For a suggested donation of £30 a head, my guests got a three-course meal, a Scottish cocktail and some extra traditional surprises thrown in on the night."
Fundraising needn't be a stretch
"As well as lining up the usual bake sales and pub quizzes to help me hit my target, I've been lucky enough to get some help from talented friends. My friend Jenny recently qualified as a yoga instructor and offered to hold a class with all proceeds going to the NSPCC. She found a local yoga studio who kindly donated the space for free, and we suggested a £12 donation per person for an hour's class. I raised about £300 in one evening!"
Getting creative at Valentine's
"Meanwhile, my friend Jess used her design skills to create a range of Valentine's cards to sell in exchange for donations. Her quirky illustrations and puns proved irresistible and saved plenty of workmates a trip to the shops."
"It can feel a bit daunting asking people to donate – whether that's their money, their time, or spaces for you to fundraise in. But just go for it. You'll be pleasantly surprised by how many people are keen to help."
Lucy

"The school I work at helped me host a dance-a-thon. The kids wore neon and absolutely loved it!"
Read Lucy's fundraising story
Lucy has been a primary school teacher for over 6 years. It's her teaching career that motivated her to take on the London Marathon for NSPCC.
"I've met children with no lunch, dirty uniforms, those who are late every single day. Cruelty to children comes in all forms and together we need to combat that, to ensure that the school is not the only safe place for children."
In the average primary school class, at least two children have suffered abuse or neglect, but it doesn't have to stay that way.
Lucy aims to raise at least £2,200 to protect children through her hobby as a florist, hosting a dance-a-thon and a sweepstake against her marathon time.
From hobbyist to hotshot
"When I lived in Melbourne I did some basic floristry training. With Christmas just around the corner, I decided to make some seasonal wreaths for family and friends! I sold them via my Instagram page and it turned out to be a massive success. Through selling £15 a wreath I managed to make £350 to get me closer to my target"
Boogie after class
"The school I work at helped me host a dance-a-thon. The kids wore active wear and neon and absolutely loved it! We had a professional at the front of the hall and managed to raise £500 through ticket sales."
"The best thing about fundraising for the NSPCC is that is it something I am so passionate about. I work with children day in day out, shaping their young lives and I am honoured to give something back to those less fortunate."
"Although children are all unique and different, they all have one thing in common, they want to be loved and they want to be cared for."