1 in 10 children has some form of mental health condition1. The government has pledged to make sure these children get the right support early on. But we must make sure help is there whenever they need it.
Our Childline service offers a lifeline to children, 24 hours a day, 7 days a week. But Childline counsellors can't respond to all the children who need our help.
We're calling on the government to increase its funding for Childline, so we can make sure every child has a place to turn.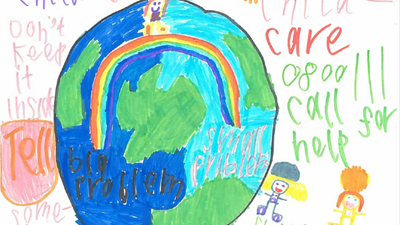 June 2018
Children and young people from across the UK created pieces of art and poems on what Childline means to them, which we sent to Jeremy Hunt MP.
May 2018
We delivered an open letter, signed by over 130 MPs and Peers, which called on the government to increase its funding to Childline.
May 2018
In May, 4 of our young Childline campaigners handed in our petition to Number 10 Downing Street. The petition included 22,411 signatures calling on the government to be there for every child struggling with their mental health.
February 2018
We held a reception in Parliament, speaking with MPs about the important role that Childline plays in providing early mental health support for children and young people.
January-February 2018
22,000 of you signed our petition calling on the government to increase its funding to Childline. Thank you for helping us be there for every child struggling with mental health.
Help us be there for every child struggling with mental health
For many children, contacting Childline is their first attempt to reach out for help. When a child has taken such a brave step, we need to be there for them.
Last year the government proposed mental health support for children in schools. But two thirds of Childline counselling sessions took place outside school hours (5pm-9am), showing the need for out of hours support. Children told counsellors they are being advised to contact Childline by many statutory services, such as child and adolescent mental health services.
One third of Childline counselling sessions are about mental and emotional health and wellbeing issues. And this number is on the rise. We're calling on the government to increase their funding for our Childline service to help us be there for children when they need somewhere to turn to.
Join us, make our call heard, and make sure we're there for every child.
How Childline makes a difference
Since Childline began over 30 years ago, it's helped more than 4.5 million children. Talking to Childline can be the first step that gets a child's life back on track.
Our Childline website is full of helpful advice and support. And our counsellors provide direct support to children in need over the phone and via online chat – at any time of night and day.
"You've been there when I was at my worst, at 2am when everything else was shut and everyone was asleep."
Young person who contacted Childline
Currently, 80% of Childline's funding comes from voluntary donations. This is an amazing show of support from the public, but it also makes this essential service vulnerable. Extra funding from the government would help us recruit more volunteers, and offer them training and support to carry out complex mental health counselling sessions. It would also help us produce support materials for young people to improve their wellbeing and resilience.
Our It's Time campaign
One study found that 9 out of 10 children abused at an early age went on to develop a mental illness by the time they were 18.2 Too often, it's only when a child is self-harming or on the brink of suicide that support opens up for them.
Our It's Time campaign demanded change.
With your help, we went to Downing Street to hand in over 30,000 signatures, demanding that every child who has lived through abuse gets the support they need. Swipe across to learn more.
October 2016
31,000 called on the government to count every child who's been abused and need support.
May 2016
50% of new police and crime commissioner candidates pledged support for our campaign.
April 2016
The Education Committee backed our call for all children entering care to receive a specialist mental health assessment.
January 2016 onwards
20,907 people emailed their MP to demand that every child receives support to MP Jeremy Hunt.
---
References
Sroufe, LA, Egeland, B, Carlson, EA and Collins, WA (2005). The development of the person. New York: Guilford.