Speak up if you're worried about a child
Anyone who is concerned that a child is being abused or neglected should pick up the phone and contact our helpline.
Whether you work with children day-to-day or you're a concerned neighbour, having that conversation means we can help you protect children in abusive situations and get them the help they need.
Act quickly to get children the right help
When children have been abused or neglected, we need to make sure they get more effective help, and quickly.
Taking action to protect children is essential. It not only saves lives, but with the right kind of support we can help children recover and go on to lead happier lives.
Better support for new parents and babies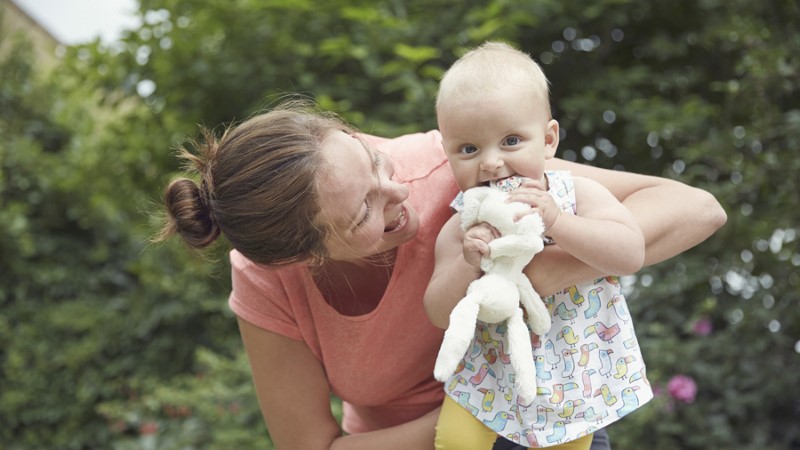 Both mums and dads need good quality antenatal education to learn how to care for and bond with their babies, as well as the emotional aspects of parenting, relationship changes or mental illness such as postpartum depression.
Our spotlight report on perinatal health highlighted the need for appropriate help to be provided to families affected by mental illness immediately before and after giving birth. It revealed that a 'postcode lottery' currently determines whether mothers get the right help. Many do not, which has a devastating impact on them, their children and their families.

As a result of the report and subsequent influencing work, health minister Dan Poulter announced that there will be sufficient training to allow for a specialist mental health midwife in every birthing centre in England from 2017.
We've also worked with a cross-party group of MPs led by Andrea Leadsom MP to produce the 1001 Critical Days manifesto. The manifesto advocates the importance of evidence-based early intervention during pregnancy and infancy and promotes our Parents Under Pressure and Improving parenting, improving practice services.
Making the internet a safe place
The internet has brought considerable benefits to children and young people. However, it has also brought dangers.
Following Prime Minister David Cameron's major online safety policy speech delivered from our headquarters in July 2013, we're continuing to work with Government and online industry to tackle child abuse images and children's access to online pornography.
In 2015, a petition by our supporters closed a big gap in the Serious Crime Bill, making it illegal for an adult to send a sexual message to a child as part of our Flaw in the Law campaign.
We've now partnered with O2 to keep children safe online with advice, tools and support.
Commitments from Google and Microsoft
Google and Microsoft have made further commitments on new measures to make it harder to find child abuse images online.
Working with the police to tackle child abuse images
We're working directly with the police to stop those who generate, trade in or access child abuse images online, so they can be brought to justice. 5 NSPCC social workers have been seconded to work at the National Crime Agency. We'll continue to demand sufficient resource and priority is given to tackling these crimes.
Equal protection for children online and offline
Our position paper calls for a Statutory Code of Practice to keep children safe wherever they are.
Online safety education in schools
We've also successfully lobbied the Department of Education to include e-safety in the national curriculum for primary and secondary school pupils, and influenced the courses' content.
Better support for children giving evidence in court
Many children who have been abused tell us how giving evidence in court can be almost as horrific as the abuse itself. So we've been campaigning hard for a better system for child witnesses.
Over 21,000 people signed our Order in Court petition calling for vital changes to make the justice system fair, age appropriate, and fit for children. We had a significant breakthrough when Justice Secretary Chris Grayling announced plans to pilot pre-recorded evidence and cross-examination for young or vulnerable witnesses ahead of trials – an important step towards making courts more child-friendly.
There's still a long way to go and we'll continue to campaign on this issue, but we come from a strong position of authority and experience to do this. Our Young Witness service in Northern Ireland helps 700 – 800 young people giving evidence each year.
Changing legislation to protect children
Our Trust to Lead campaign is calling on Government to amend legislation to better protect children from abuse by a trusted adult.
Position of trust
In the UK it is illegal for a person in a 'position of trust' to engage in sexual activity and relationships with children under the age of 18. There is separate legislation for England and Wales, Northern Ireland and Scotland defining what this means.
The term 'position of trust' currently applies to people working with children in settings such as teaching and care. But there are many other roles and positions where adults have the opportunities to establish trust with a child and this trust could potentially be abused.
We're calling on Government to add the following definition to the legislation in all 4 nations of the UK:
Persons over 18 who are in Regulated Activity; are in a position of trust over any individual(s) under 18 who is employed or looked after by that organisation.
DBS checks for regulated activity
We are also calling for a change to the legislation defining 'regulated activity' in England and Wales, and Northern Ireland.
Following changes made in the Protection of Freedoms Act 2012, only people who are in sole charge of children and young people in 'regulated activity' need to have an enhanced disclosure and barring service (DBS) check with barred list information. Those whose activities within a club or organisation are 'supervised' do not have to be checked against the barred list.
This means that people who have been disqualified from working with children and young people could still work with children in a 'supervised' role.
We're demanding that the law is amended so that everyone who works or volunteers regularly with children is properly checked.
Fighting for childhood across the UK
England
We stand up for children in England by finding the best ways to prevent abuse and neglect and influencing the Westminster government to take action.
Find out more
Northern Ireland
We're making life better for children in Northern Ireland by influencing policy, legislation and practice through our local evidence-based research and services.
Find out more
Scotland
We're building a better future for Scotland's children through working with local services and communities and influencing national policy.
Find out more
Wales
We're working to strengthen the delivery of children's rights and create safer childhoods for every child in Wales.
Find out more
All Party Parliamentary Group for Abused and Neglected Children
We provide the secretariat for the All Party Parliamentary Group (APPG) for Abused and Neglected Children (previously the APPG on Child Protection).
An APPG is a crossbench group of MPs and Peers. The purpose of this group is to raise the profile of child abuse and neglect in parliament, consider solutions to tackle it and investigate policy and upcoming areas of legislation which could have a significant impact.
We hold meetings in Westminster and run inquiries where we hear from professionals, academics and frontline staff about the key issues in child protection. Most importantly we involve young people in the work that we do to ensure that they have the chance to have their voices heard in Westminster.
Inquiry on therapeutic support
In the parliamentary session 2016-17 the APPG will be running an inquiry on therapeutic support for children that have been abused or neglected. The inquiry will focus on 4 themes:
understanding need for treatment and the gap in provision
mental health of looked after children
what children who have experienced abuse and neglect want to aid their recovery
and best practice in delivering support.
Previous reports from the APPG for Child Protection can be found on our library catalogue. If you would like any more information about the inquiry, the APPG or would like to join our mailing list, please contact martha.kirby@nspcc.org.uk
Take a stand with us
It's Time
We're calling on the government to make sure every child who's experienced abuse gets support. But we need your help.
Join our campaign
Campaign with us
Together, we can continue to change laws, attitudes and help to protect children across the UK.
Join our campaigners network
Make a donation
A child will contact Childline every 25 seconds. Donate now and help us be there for every child.
Donate now