Get help writing your will
Remember a Charity in your Will Week
We're proud to be part of Remember a Charity, an initiative made up of over 140 UK charities, all working together to encourage more people to consider leaving a gift in their will.
The Remember A Charity website can help you to find local solicitors, who will be able to advise you on leaving gifts to charities when making a Will.
Supporters who've left a gift in their will
"Mrs Thelma Edwards was orphaned very early in her life as her mother died of heart related problems at only 26, Mum was about two to three years old, so she spent quite a few of her early years in care in the Plymouth area, which I know was a rather difficult period of her life, and she found it hard to talk about.
Mum's father was killed at sea when she was about eight years old, so she was brought up by an adopted "Gran" and also fostered for a time in the Glasgow area of Scotland. Mum faced a lot of challenges in her life, even sexual abuse at one time, which was a very painful memory for her.
She was a nursery nurse in her late teens and also joined the Land Army which she was always proud of. Mum eventually married and had five children of her own and she spent a lot of her older years in the Shropshire area. Mum also fostered a couple of young children from a family during our childhood, to give something back to society as she had been in the looked after system.
Mum was dedicated to The St. John Ambulance Brigade and spent many years teaching Casualty Simulation to lots of young people which she thoroughly enjoyed and was even presented with a "Grant of the Dignity of a Serving Sister of the most Venerable Order of the Hospital of St John of Jerusalem" by Richard Duke of Gloucester in 1983, another part of her life that she was very proud of and so were we as her family.
The family was always important to Mum as she had lost her own family at such a young age and she felt that young people should be supported especially when they live in care. Sadly, she lost our father when she was 60 having nursed him for four to five years after a stroke. Mum then became a spiritual healer, clairvoyant and medium and spent many happy years working with the local spiritualist church. In 2010 Mum developed lung cancer and passed away peacefully at 82 in November 2010." - Thelma's daughter, Annette.
"This photo was taken in Phyllis's garden in the Spring after her 100th birthday. I was thrilled to have taken my camera in case she could be persuaded to come out into the sunshine - she was already there when I arrived."
This beloved and productive garden was that of the house in which she was born in 1910 and which had been her home until the last 15 days of her life."
Phyllis never married, but took an active part in church and village life, and was always interested to hear the latest news. Some years ago, I had suggested that a Will should be drawn up and the NSPCC was one of the six charities she designated, listing everyone to be included with no influence from anyone. She was absolutely clear in her own mind what should happen after her death and it became my job to ensure that it happened."
She was very fond of her young relatives and they of her. After college she worked in school catering, and for a time was responsible for the provision of dinners for the 300 pupils at the local grammar school, so had plenty of enjoyable contact with young people. Hence her bequest."
She and I met through the WI, sharing in a bursary to Sparsholt College in Winchester when she was a mere 70. The courses on offer included Orienteering and with a mixture of charm and deep knowledge of the countryside, she kept up effortlessly with much younger ladies!"
Her ashes are now buried with those of her father, mother and younger sister in St Thomas' churchyard. My tribute at her funeral ended with a slight misquote from Hamlet - 'She was remarkable, take her for all in all. We shall not look upon her like again.'"
It is impossible to sum up someone who became so important in my life, even though we were not related. The trust she placed in me, of necessity, towards the end was a huge privilege." - Phyllis's good friend, Mrs Cahill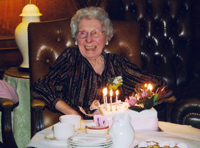 "My Aunt, Marjorie Joan Hammon (known as "Joan") was born in 1918 in Ashford, Kent and this is where she lived for the majority of her life. She was married to Ron in 1941 and in 1945 they had a son, Roger who had profound and multiple learning disabilities.
My Aunt and Uncle dedicated a huge amount of their lives to Roger's care, both during the period that he lived at home and subsequently when he moved to residential care.
Joan's determination to always strive for the best for Roger defined her whole outlook on life.
She spent much of her life in charitable work - organising the sale of Christmas cards, raffle tickets, serving teas at the local hospital, preparing rotas, visiting young people with learning disabilities. She had a deep understanding of the needs of vulnerable young people and this is one of the main reasons she chose to remember the NSPCC in her will.
She supported the NSPCC for many years because she believed that the charity really does make a difference to children's lives. She found the idea of cruelty to children abhorrent and recognised that services like ChildLine were an essential part of reaching out to young people who need to be listened to, supported and offered protection.
I remember her as a very graceful, elegant lady. She was someone who was always around to offer support when it was needed - normally in a very quiet way but always with a willingness to help in whatever way she could.
She did not show her emotions very often but was always there to offer me a hug and a listening ear when it was needed. One of my best memories of her was at her 90th birthday party which she shared with friends and family - she had a wonderful day and really did shine with happiness (the photo was taken on that day)." - Joan's niece.
How a gift in your will can help children
Leaving a gift in your will can change a child's life. It means we can give children the help they need – recovering from abuse, or preventing it from ever happening.
"At the first session I got to meet other young people... I started to feel a bit more normal and realised for the first time that I wasn't alone."
Read JB's story
"I felt ignored by my social workers and like I didn't have any power or say in what was happening in my life."
Read Geoff's story
Need help writing your will? We can help
It's best you see a solicitor when it comes to writing or changing your will, but if you're thinking about leaving a gift to the NSPCC and would like to talk us, our team are here to help.
Are you the executor for an estate?
If you're the executor for an estate with a gift left to the NSPCC, we can help.
We can support you with the process of administering a will. Our Legacy Management team are here to help.
Other ways to support us
Donate in memory
Making a donation in memory of someone or setting up a Tribute Fund can be a positive way to celebrate the life of a loved one.
Make a donation in memory
Give in celebration
Give your wedding and party guests something to remember and support us with our selection of charity gifts and favours.
Read more