There are 61,709 reasons to support the NSPCC. Here's just one of them.
Last year, 61,709 adults contacted us to report child abuse or to get advice about a child's safety. One of those contacts was from a mum, Harriet*, who was seriously concerned for the safety of her daughter's friend Kayleigh*.
Kayleigh's situation was so serious, we contacted social services and she was removed from her carer.
With over 90% of our funding received from public donations, we need your help to protect more children like Kayleigh from child abuse.
---
An incredible story of how one mum saved an 8-year-old girl
Helpline supervisor Jenna tells of the heart-breaking call we received from a mother concerned about her daughter's friend Kayleigh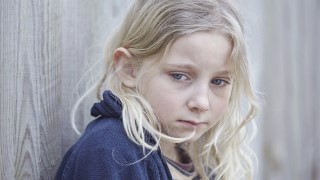 As a mum myself, remembering the call we took about Kayleigh* always brings tears to my eyes. It may upset you too. But I hope it will also inspire you to help us reach another child.
A local mum called Harriet* rang us to say that she was worried about 8-year-old Kayleigh, who she saw most mornings on the school run.
"She said she'd been hit on the back with a hoover pipe..."
Jenna / Helpline supervisor
Kayleigh always ran to catch up with her and was usually very chatty, but that morning she'd been crying. She told Harriet, "I need to tell you something, but I can't tell you who did it."
Kayleigh told Harriet that she'd been locked in her bedroom for making a mess that wasn't her fault. Worse, she'd been hit with the pipe from a hoover, and had her feet stamped on.
"I could tell Kayleigh was really shaken up by what had happened"
Harriet
Harriet was shocked. She'd been worried about Kayleigh before, as someone who worked at the school had told her that Kayleigh often had mouldy sandwiches in her lunchbox.
Harriet knew she had to tell someone, so she did the most powerful thing she could. She called our Helpline.
Thanks to Harriet's call, Kayleigh was placed with a new family within days. A few weeks later, she saw Kayleigh again. She was chatty and smiling, as she had been before. She was now safe and loved, as every child should be.
Donate now
Help us, help children like Kayleigh
It's vital that we're here, 24-hours a day, ready to do whatever it takes to keep children, like Kayleigh, safe. But we can only do this with your help.
More and more people are identifying the signs of child abuse, which has lead to a huge increase in the number of calls we receive. It's an opportunity we can't miss to help protect more children across the UK from abuse.
*DISCLAiMER
Names have been changed to protect identities. Any photographs are posed by models.
Together we can achieve more
Number of children at risk of abuse soars by 80%
'How safe are our children?' report reveals highest recorded number of children being referred to social services.
Read more
NSPCC helpline
Through the NSPCC helpline, we offer help, advice and support to thousands of parents, professionals and families.
Read about our helplines
Donate now
Your gift will protect children today and prevent abuse from happening tomorrow.
Yes, I'll donate