Enjoy the Virtual London Marathon at your own pace, on your own terms
Take on the Virtual TCS London Marathon for #TeamNSPCC and help us make 2022 a better year for children. Be part of the bucket list London Marathon race virtually by completing the 26.2 miles on Sunday 2 October 2022. You can do it from home, or wherever you are, on a course of your choice.
With 24 hours to do the full marathon distance, you can take as long as you need to finish it. You can stop and start whenever you need to throughout the time, or walk it all in one go, it's up to you! You'll also receive the exclusive London Marathon finisher t-shirt and medal. We're calling on you to join our team and help raise vital funds for children.
Get a charity place
Registration is £10 and we ask that you raise a minimum of £150 to support our work.
Why you should run virtually with us
The past few years have shown just how vital our services are and how much we can do for children when we unite. Every step you take and every pound you raise will help us keep children safe, online and offline. By taking part in the Virtual London Marathon, you can help us make 2022 a better year for children.
We'll help you get race-ready by giving you:
essential training tips and tailored support from our training partners
your own London Marathon finishing medal and t-shirt
fundraising support and tips to help you smash your £150 target
the opportunity to take part in this iconic marathon running event
a chance to do something amazing for children.
Whether you want a charity place or already have your own place for the Virtual TCS London Marathon, you can sign up to join #TeamNSPCC.
How to get a place in the Virtual London Marathon
Register
Whether you're taking a charity place or have your own place in the Virtual TCS London Marathon, you can join by clicking one of the links above.
Fundraise
Set up your fundraising page, then start fundraising! You can even make your own donation to kick start your page.
Plan your challenge out
Will you be running smaller distances throughout the day and taking breaks, or setting out to walk the full marathon in one go? Remember to plan in points to refuel with food, water or gels if you use them.
Post about it
Share your virtual marathon experience on social media using #TeamNSPCC. You can also use our GIPHY stickers on Instagram by searching 'NSPCC' in the GIF section on your stories.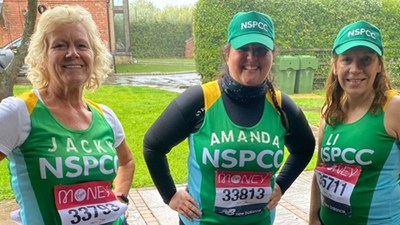 "The day included terrific highs and lows, what kept us going was the cheers from complete strangers and our family and friends. You finish and you wonder 'How did I do that?'. Best feeling ever!"
Amanda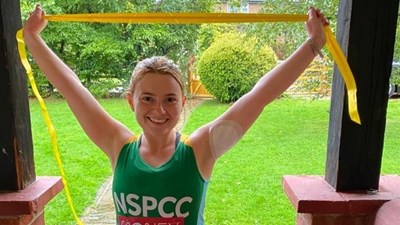 "The wind and rain didn't stop me achieving my goal! It was great to take the marathon at my own pace and loved having my own personal finish line.. made by my mum."
Emily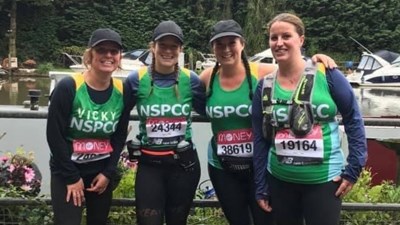 "We loved running together! We battled through the wind and rain, but knowing we were doing it for an amazing charity made it all worthwhile."
Together, we can make 2022 a better year for children
During last year's lockdowns, our helpline saw a 60 per cent increase in contacts from people worried about children experiencing online sexual abuse. And Childline has seen an 11 per cent increase in the number of counselling sessions about online sexual abuse.
With your help, we can keep fighting for every childhood. We want to answer every call, reach every child who needs us, and keep adapting to whatever challenges this year throws at us.
Help us be here for them and join #TeamNSPCC for the 2022 TCS Virtual London Marathon.
DISCLAiMER
*This is a true story but names have been changed to protect identities and any photographs are posed by models.