We've all been on the receiving end of a difficult conversation. But that doesn't make it any easier when you have to have one with your child.
You might need to have a conversation where you:
have to break some bad news
have to ask about something you're worried about
ask about topics you find uncomfortable - like sex or drugs
ask your child if they're worried or scared by something
ask your child about a new behaviour
or anything else you feel will be difficult to bring up.
Whatever the subject, and however old the child you're talking to, there are lots of ways to make it easier for you both. We have advice to help you decide how to talk to your child in a way that's age-appropriate and supportive. However you know your child best so trust your judgement about what will work for your family best.
Why it's good to talk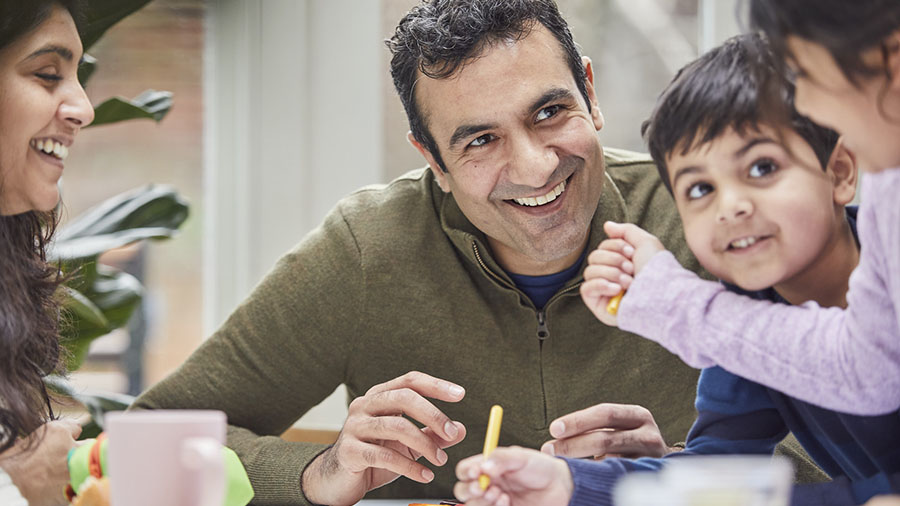 It's important every child has someone they trust to look to for help. Childline is always here when they need someone to listen.
We all want children to grow up in a safe and loving environment and to become happy, confident adults.
To get there there'll be times they need to talk to someone, for advice or for support. There will also be times when you need to explain something that might upset them.
As their parent or carer, it's up to you to talk to them when you think they might need a nudge in the right direction, or to share news or information that's going to affect their lives.
Before starting a difficult chat
Whatever it is you want to discuss, it's important to think about where and how to talk so children will listen.
There's no telling how long the conversation is going to last, so the first thing to consider is where and when you're going to start it. For example, if you start in the evening when they're tired, your child or children might not be able to concentrate.
If you're talking to just one child about something, consider how private the time and place are. It's might work best to have it at a time when brothers and sisters aren't around to interrupt.
It could be good to have it in a relaxed and neutral place, like on a walk or in the car.
You could also ask other parents you know how they've created the right situation to talk about difficult topics in the past and see if it would work for you too.
Starting a hard conversation
It's never easy to start a serious conversation with a child. It can help to try to prompt them with a TV show or story book to introduce the topic.
Think about what you want from your chat with your child, and then consider how to approach the topic. Too forceful an opening might worry them, they may clam up or feel uncomfortable. But a more subtle approach might mean they get distracted and you discuss what you planned to.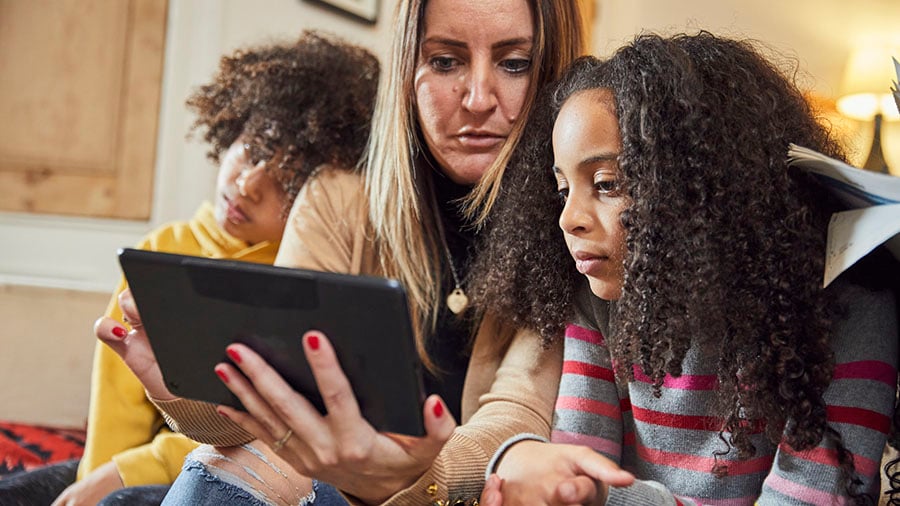 It can be a good idea to try to make the conversation relevant to them. For example, if you know of a TV show or film that addresses the topic, like a character experiencing bullying, you can use this as a conversation starter. You could kick things off by asking your child what they'd do in the same situation.
There are also lots of story books written specially to help talk to children about serious subjects like death, abuse and bullying. We have lots of options for different ages on our online shop. After you've read the story together a couple of times, ask some gentle questions to check what they've understood. You could ask what they would do if they were the character in the story.
You could also start out by asking them what they think about the topic. If it's something they've discussed in class, you could ask what they thought about the lesson or what their classmates thought. You could say that a friend of yours needs some advice about a particular issue and to ask if they have any ideas. It's a nice way to show that you value their opinions while also finding out just how much they know about a subject – like how to stay safe on the internet.
Keeping the conversation going
It might take time for your child to understand what you're saying fully - and that's OK.
However you choose to start your conversation, try to keep your expectations realistic. It might not go as well as you're hoping, but give it time. Your child might not be ready to talk straight away but could actually re-start the conversation with you a few days later.
It's also best to think about having a few bite-sized conversations over a period of time. It gives your child the time to process what you've discussed and stops the whole thing sounding like a lecture.
Listening is important too
If you're worried or nervous about a conversation, it's easy to forget that it should be going two ways.
It's important to show that you are also listening to them and value what they're telling you. We have some tips to help:
Start by asking questions that don't just have "yes" and "no" answers. This gives your child the chance to tell you what they think.
Give them as long as they need to answer without interrupting. They may be nervous or still working out what they really think and that could take a little time.
Let your child ask you questions too. Be honest with them about how you feel about certain subjects and let them know about things that have happened to you in the past.
Let them know that they can trust you to keep their confidence and that you want them to always feel they can talk to you, other people they trust or organisations like Childline, when anything is worrying them.
Sometimes your child might actually come to you to talk about a concern.
It may be that they want to talk about a friend who's depressed or frightened because of bullying. Or it could be about something they've done themselves like sexting or trying alcohol.
It's probably taken a lot of courage to even mention it to you so you need to make them feel as comfortable as possible about continuing the conversation:
If it's not the right time or place, agree when and where you're going to talk.
Begin by reassuring your child that they can tell you anything they need to and you won't blame them in any way.
Listen carefully to what they have to say.
If you don't understand then be honest and ask them to explain.
Above all, let them say everything they want to say before you give any opinions or advice.
It's OK to ask your child what they'd like you to do about the situation but it could be something where you can't do anything at all; for example, if they're grieving over a death. What you can always do is reassure and support – starting with a big hug.
If there is anything you can do, and if you plan to do it, let your child know. Otherwise they may feel like you're going behind their back and they should never have told you in the first place.
Talking about life-changing topics
Unfortunately things do happen that can turn young lives upside down. Talking with your child about separation, illness, death or other life-changing topics might be emotional and distressing for both of you.
Having difficult conversations is hard, but if you handle it well it can bring you and your child closer together and help you to understand each other.
Before starting the conversation it can help to think about:
when and where to have the conversation – choose somewhere that will be comfortable for you both with no interruptions
if you have children of different ages, will you speak to them together or separately
who else should you tell before your child, so they can be ready to give emotional support
think about the sorts of questions your child's likely to ask you, so you can have the answers ready.
When the time comes to break the news, remember to explain everything slowly, in words that your child will easily understand. It's also important to make sure they know that they're not responsible or to blame in any way for what you are telling them.
Books to help with conversations
Books can help you talk to children and young people about sensitive subjects and explore ways to start the conversation.
How to talk so kids will listen and listen so kids will talk
By Adele Faber and Elaine Mazlish
Explains how to cope with children's negative feelings, how to express anger without being hurtful, how to engage a child's willing cooperation, how to set firm limits and maintain goodwill, and, how to resolve family conflicts. It also outlines alternatives to punishment.
Kid-friendly parenting with deaf and hard of hearing children
By Daria J. Medwid and Denise Chapman Weston
For the parents of deaf and hard-of-hearing children, this step-by-step guide offers hundreds of ideas and methods that work with children aged 3 to 12. It provides play activities to help parents enhance communication, solve problems and strengthen relationships in skilful, fun ways.
The huge bag of worries
By Virginia Ironside and Frank Rodgers
An illustrated book which encourages children to share their anxieties and fears. Tells the story of a little girl who carries around an increasingly huge bag filled with worries. She doesn't feel she can tell anyone but once she opens up the bag and shares the worries with someone else, the worries no longer seem so big.
The incredible years: a trouble-shooting guide for parents of children aged 3-8
By Carolyn Webster-Stratton
Advice for parents on managing anger and frustrations, coping with specific problem behaviours such as bed-wetting, how to play, using praise and rewards to promote good behaviour, and communicating with children.
The Parentalk guide to your child and sex
By Steve Chalke
A father of four children, the author takes an honest and humorous look at how to overcome the embarrassment factor and offers practical information and advice for parents on talking to children about sex.
How to talk so teens will listen and listen so teens will talk
By Adele Faber, Elaine Mazlish and Kimberly Ann Coe
This book is designed as a light-hearted guide to help support parents through the teenage years. Written in a practical and accessible style it offers suggestions and guidance on dealing with common sources of conflict. It focuses on effective communication as a means of resolving difficult situations and challenging behaviour.
Queen bees and wannabes: helping your daughter survive cliques, gossip, boyfriends and other realities of adolescence
By Rosalind Wiseman
Examines the experiences of teenage girls and their relationships with other girls. The author has worked extensively with teenage girls and uses her experiences to show parents how to understand the different cliques and roles girls adopt. Issues covered include sex, alcohol, drug and teasing.
The connected father: understanding your unique role and responsibility during your child's adolescence
By Carl E. Pickhardt
Describes how fathers can learn to become better listeners. Shows the different emotional changes for teenagers, how to encourage independence while setting limits, and how fathers can talk to teenagers about drugs, sex, the internet, and relationships.
What are they thinking?!: the straight facts about the risk-taking, social-networking, still-developing teen brain
By Aaron M. White
A guide to understanding, and dealing with, teenage behaviour. Explores adolescent brain development, looking at a range of issues including mental health, diet and eating disorders, internet, online pornography and social networking, sex and sexuality, drugs, alcohol and addiction, and bullying.
What can the parent of a teenager do?
By Michael Quinn and Terri Quinn
Practical skills to help parents find ways to support their teenagers' development with an emphasis on improving communication skills. Stresses the importance of managing conflict respectfully, finding ways of coping with pop culture and supporting the work of fathers in parenting.
Communication skills for working with children and young people: introducing social pedagogy
By Pat Petrie
Practical handbook on communicating with children and young people, illustrated with case studies throughout. Shows how to build relationships by communicating effectively with children and other adults using the ideas of social pedagogy. Covers verbal and non-verbal communication, empathy, working with conflict and in groups. Aimed at any practitioner working with children, young people and their families regardless of the setting.
Listening to children: a practitioner's guide
By Alison McLeod
Presents an introduction to the ideas behind listening to children and young people and how to do it. Offers a range of techniques for effective listening, encompassing observation and communication, explaining difficult issues, helping young people to talk about their experiences and involving them in decision-making. Includes checklists, reflective exercises and quotations from children.
Listening to children: talking with children about difficult issues
By Nancy Close
Aimed at making nursery teachers, parents, doctors, nurses and therapists feel comfortable when talking with young children about uncomfortable issues. Encourages adults to have faith in what children are saying, and to encourage them to communicate. Discusses children's fears, anger and aggression, reactions to death and loss, and conceptual knowledge. Other topics examined include sibling relations, child development and self-esteem.
Working with children and teenagers using solution focused approaches: enabling children to overcome challenges and achieve their potential
By Judith Milner and Jackie Bateman
Based on solution focused practice principles, illustrates communication skills and playful techniques for working with children and young people regardless of health, learning or development needs. Will be of interest to social workers, youth workers, counsellors, teachers, nurses and other practitioners.
Find books on our online shop. Your purchase will raise funds to help us keep children safe.
Support for children and young people
Our Childline website has age-appropriate information about lots of different topics like moving, divorce and death. These pages can help you decide how to approach a conversation, and can provide support for your child after your chat.
Our Childline counsellors are always here to listen to children if they need someone to talk to - by phone, on chat or by email.