Non-recent abuse
Support for adults abused as children
---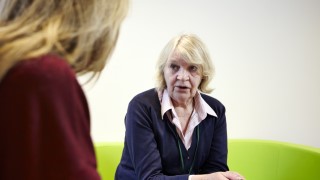 Non-recent abuse (also known as historical abuse) is an allegation of neglect, physical, sexual or emotional abuse made by or on behalf of someone who is now 18 years or over, relating to an incident which took place when the alleged victim was under 18 years old.
Many people who were abused in childhood believe that they are to blame and that the abuse was their fault. But this is never the case - a child cannot consent to abuse.
In countless circumstances children are too young to fully understand or articulate what is happening to them. Some spoke out at the time but weren't believed. Others were too embarrassed to tell anyone or did not know who to turn to.
For many, the abuse may have been too difficult to process and they may only remember aspects of what happened as they get older.
Others may have lived with the memories all their lives.
Whether the abuse happened once or hundreds of times, a year or 70 years ago, whatever the circumstances, there are people who can help. It is never too late.
There is no excuse for abuse.
Are you there for children's mental health?
We need to make sure every child always has a place to turn - night and day. Sign our petition calling on the government to help our Childline service be there for every child.
Sign the petition
Reporting non-recent abuse and who can help
It is never too late to report the abuse.
Adults often report non-recent abuse to stop the offender abusing other children. Some feel that reporting gives them a greater sense of closure.
Deciding on when or whether to report can be very difficult. You should never feel forced to take any action that you do not feel comfortable with.
It may be reassuring to know that if you do decide to report, you will be supported throughout the process.
The more information you are able to provide, the better such as your name and contact details, the name of the alleged perpetrator and the location and (approximates) dates that the abuse took place.
You can report abuse to the police regardless of how long ago it happened.
For example; if you were a victim of childhood sexual abuse and decide to report this to the police:
firstly contact the local police on the UK wide non-emergency number 101 and briefly explain what you are calling about
you will be put through to a specifically trained officer such as a sexual offences liaison officer (SOLO) who will take an initial statement
the SOLO will arrange with you a time and place that you feel comfortable with, to take a more detailed statement
your details will be treated sensitively throughout and you do not have to face the alleged offender.
What happens next?
the role of the police is to investigate the crime and recover evidence
the role of the Crown Prosecution Service is to decide if there is enough evidence to prove the abuse occurred ' beyond reasonable doubt'
even if there is little evidence it might be taken to court if there is a concern for public safety.
The process will not be a short one, but the police will update you of the developments.
If you do not feel comfortable contacting the police directly you can contact the NSPCC Helpline any time where an advisor will discuss with you your options for reporting.
If you decide you wish to report and provide the name and details for yourself and the alleged offender we will pass this information on to the police on your behalf.
The police will then contact you in order to discuss the disclosure further and arrange to take a formal statement. Your details will be treated sensitively throughout.
Even if reporting the abuse does not result in a conviction, it can help in a number of ways.
Reporting might support you in moving forward and can bring positive change to your life. People have told the NSPCC Helpline that it has helped them break the cycle of revictimisation and stop them questioning 'what if I reported?'.
If the alleged offender has abused others, they may decide to report this in the future. Your allegations can add to the body of evidence against the alleged offender and may result in a conviction.
Recent allegations and investigations of high profile non-recent abuse such as Operation Yewtree, have led to a shift in society culture and the way in which the police and Crown Prosecution Service investigate these.
If you reported the abuse in the past and feel you weren't believed, you can contact the NSPCC Helpline to discuss this further with a Helpline counsellor. If you're happy for us to do so, we can make a report to the police on your behalf.
If you believe the offender of the abuse is still having contact with children in any context and poses a possible risk, we strongly advise that you contact the police or the NSPCC Helpline so that we can act to prevent any further abuse.
Whether you are speaking about the abuse for the first time or have received help in the past but need further support, there are people who can help you.
Confide in a friend or family member
Thinking about talking to someone close to you about the abuse can seem frightening. You may not know where to start and may be worried about their reaction. It is important to choose someone you feel you can trust to provide a listening ear.
You don't have to tell them everything, but the initial conversation may help to lighten the load and enable you to discuss how you want to move forward.
NAPAC is the National Association for People Abused in Childhood. NAPAC's trained staff speak with survivors of any type of childhood abuse over the phone, exploring the options available to them such as support groups and counselling to help empower callers to move forward. Calls are confidential, free from UK landlines and mobiles and can me made anonymous.
NAPAC also supports family members, friends and professionals who are helping someone who was abused, advising them on who else can help.
The NAPAC website provides a wealth of information, including a postcode searchable database which lists local trusted organisations who can offer free or low-cost on-going support.
The website also has free downloadable booklets focusing on subjects such as; 'healing at your pace', 'you are not alone' as well as information on the legal process for reporting abuse.
Talk to your GP about seeing a counsellor
Talking to your GP may be helpful as they can refer you on to the appropriate support, such as counselling. They can inform you if the NHS provides services for survivors in your local area.
You can also search for a private counsellor using the British Association for Counselling and Psychotherapy website.
Finding the right counsellor for you can be challenging. If therapy has not helped you in the past, it may be better for you to try a different counsellor. Ask them whether they have experience of supporting adults who were abused in childhood.
Other support sites and services
Survivors UK offers a range of support services to male victims of childhood or adult sexual abuse.
Rape Crisis England and Wales, Jersey, Scotland and Northern Ireland provide a directory of local support services.
Samaritans is available around the clock 365 days of the year to provide confidential emotional support for people who are experiencing feelings of distress or despair.
StopItNow! is a child sexual abuse prevention campaign that offer support to adults who are worried about the sexual behaviour and thoughts that they, other adults or children may be having towards children.
Adults who were abused as children
Children who have been abused or neglected may experience physical or emotional harm. The effects can be short term but sometimes they last into adulthood. If someone has been abused as a child, it is more likely that they will suffer abuse again. This is known as revictimisation.
Long term effects of abuse and neglect include:
emotional difficulties such as anger, anxiety, sadness or low self-esteem
mental health problems such as depression, eating disorders, post-traumatic stress disorder (PTSD), self harm, suicidal thoughts
problems with drugs or alcohol
disturbing thoughts, emotions and memories that cause distress or confusion
poor physical health such as obesity, aches and pains
struggling with parenting or relationships
worrying that their abuser is still a threat to themselves or others
learning difficulties, lower educational attainment, difficulties in communicating
behavioural problems including anti-social behaviour, criminal behaviour.
More support and information about abuse
Signs, symptoms and effects of child abuse and neglect
The signs of child abuse aren't always obvious, and a child might not tell anyone what's happening to them. Sometimes children don't understand that what's happening is abuse. 
Spot the signs of child abuse
NSPCC helpline
Through the NSPCC helpline, we offer help, advice and support to thousands of parents, professionals and families.
Read about our helplines