Sky Mobile asked customers to support the NSPCC by exchanging their spare data to help fund Childline on Christmas Day and Boxing Day.
For every 50GB donated, Sky Mobile donated £20.831, a minute of running Childline.
The campaign was such a huge success and in just a week, it exceeded its target by raising £71,000 for Childline.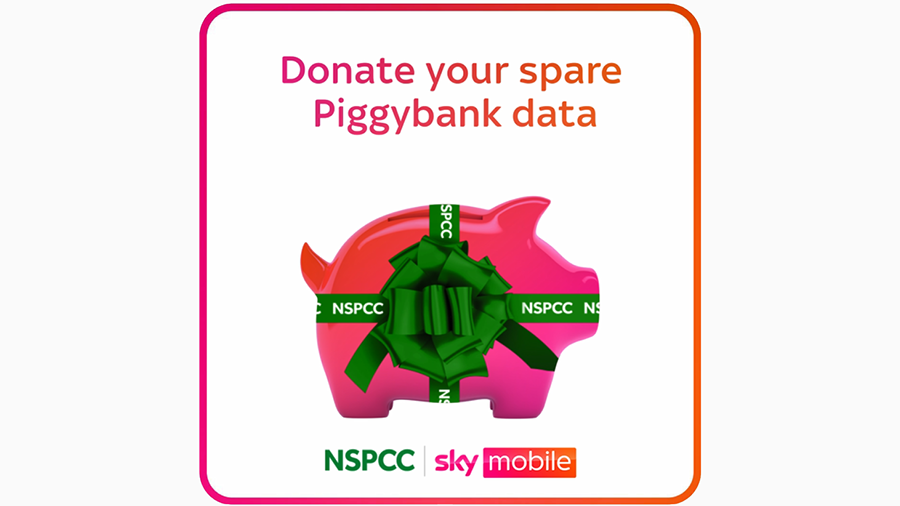 Our current partners
abrdn are supporting our Speak out. Stay safe. programme in Aberdeen and Edinburgh

Staff at the Bank of England are raising vital funds for Childline to help keep children and young people safe.

We're partnering with Harrods to raise £1.2 million to help give every child in London a voice.

Bell and Company have been partners of NSPCC Northern Ireland since 2016 and have raised over £69,000.

Blakemore Retail have raised £4 million and support our Speak out Stay safe service, Talk PANTS and Home or Out Alone campaigns.

Calpol are helping to raise important awareness of the NSPCC helpline and have helped us answer 20,000 calls through their donations.

CV Library is committed to donating a minimum of £25,000 to Childline in 2022.

gohenry encourages donations from its banking app to help every child have a safe childhood.
Since 2012, Home Bargains have raised over £760,000 supporting our work in Liverpool.

HSBC UK employees chose NSPCC as one of their national charity partners until the end of 2023, supporting through volunteering and online/payroll giving.

For 3 decades, JCB have raised over £5 million to support therapeutic services in Staffordshire and north Wales.

J.P. Morgan staff support the NSPCC through their Corporate Challenge and Small Change initiatives.

Lidl GB have raised £5 million over 5 years, in support of Speak Out Stay Safe and Childline, and have committed to a further £5 million over the next 3 years to support young people with their mental health.

Lidl Northern Ireland have partnered with NSPCC since 2017 and have pledged to raise £1.1 million during our partnership to help keep children safe across Northern Ireland.

Lindt have raised an amazing £500,000 over 5 years, supporting us at Christmas and through brilliant staff fundraising activities throughout the year.

Loro Piana are supporting Childline through employee fundraising activities and a CRM partnership.

Matalan have partnered with us since 2004 raising over £10 million to support children and families.
Morgan Stanley employees raised £1.5m for The Lighthouse, a service for children who've experienced sexual abuse.

Morningstar, have paired with the NSPCC and employees are fundraising, volunteering and running pro bono projects.

NatWest Group's staff and customers donate via payroll and rewards giving, #GivingTuesday initiatives and employee fundraising.

OC&C Strategy Consultants deliver strategic pro bono projects, and their staff also volunteer and fundraise for us.

We're working with the Premier League to empower and support young people.

Redrow are supporting us in a number of ways, including through organising volunteering days, providing funding for Childline, and promoting Childline volunteer opportunities across the business.

Resource Solutions have sponsored our Trailblazers event since 2020 and is committed to support Childline through employee fundraising and advocacy.

Our partnership with Sky helps drive awareness, inspire action & raise vital funds for the NSPCC, keeping generations of children safe

To mark their 230 years in business, Start-Rite Shoes are releasing a bespoke shoe collection in aid of the NSPCC.

Toby Carvery are fundraising and bringing families together by hosting a range of events in their restaurants to help us keep children safe.
Woodmansterne Publications have raised over £300,000 for Childline through Christmas card sales.
---
References
1. £20.83 is based on Childline costing £30,000 to run a day and therefore 1 minute costing £20.83.