Explore the incredible mountains and coastline of Oman on this spectacular mountain trek in support of NSPCC. Follow ancient footpaths as you hike through the Omani mountains, taking in breath-taking canyons and wadis on this amazing 4 day trek abroad.
The journey will test and challenge you as you climb to the summit of Jebel Qihwi (1,800m) but will be worth it for the amazing views of the mountains inland and the crystal clear blue sea. You'll camp each night, giving you the chance to watch the sun set over the mountains before getting some much needed sleep.
What's included?
Flights to and from Dubai and internal transfers (you can join or leave the group at Dubai if you'd like to extend your trip).
Accommodation (twin share tents and hotel on the last night).
Meals and drinking water during the challenge - English speaking trek leaders.
Support before, during, and after the trek including an online participant information hub and a Facebook group to help you keep in touch with your team mates.
Not included: travel to and from Heathrow airport, visas, vaccinations, spending/ tipping money, travel insurance.
How we'll support you
If you trek for us, you'll get:
a free NSPCC trekking t-shirt
fundraising support and materials from our friendly team
training advice and a bespoke training plan from our partners
Full Potential NSPCC bobble hat and buff if you're on track with your fundraising
a dedicated Facebook page to chat to your team mates.
Ready for an adventure?
If you've decided the Oman Mountain Trek is the challenge for you, sign up online today.

Or if you have any questions, we're here to help. Call 020 3772 9720 or email us.

Sign up today
How will I reach my fundraising target?
We're here to help you with your fundraising, so don't panic. Karen, who was on the Great Wall of China Trek in October 2017, lets us in on how she smashed her fundraising target and raised over £3,000.
"Once we had made the decision to book in for the trek I set up an online giving page. Next, I wrote down a list of ways to raise money, I then selected what I thought was achievable. I arranged one quiz evening and two coffee mornings. I then began asking local shops and small businesses to donate prizes for raffles and got some teddies for name the teddy competitions.
Then I decided to ring around supermarkets to ask if I could stand in the foyer collecting. Many said no but Sainsbury's, Morrisons and Lidl said yes and were really helpful. On the stand I did another small raffle and name the teddy which attracted people.At the coffee morning I raised quite a lot of money by playing higher and lower (a la Bruce Forsyth), charging £1 a go. I also made a lucky dip of sweets for the children, and another raffle of cakes that people had donated.
Lastly I made ribbons and asked larger businesses to sponsor me if I had their names on the ribbons, this raised a lot. Some people asked for their children's names which I thought was lovely."
How you'll make a difference
Abuse changes childhoods, but so can we. By taking part in a fundraising event, your donation will make sure that when a child needs a helping hand, we're there.
We help children across the UK to rebuild their lives and we're finding ways to prevent abuse from ruining any more.
More about what we do
You might also like...
Trek Transylvania
Trek through awe-inspiring Romanian landscapes as part of Team NSPCC.
Get a place
National 3 Peaks Challenge
Take on our 24 hour challenge to trek Ben Nevis, Scafell Pike and Snowdon and see spectacular views across the highest peaks led by qualified mountain leaders.
Take the challenge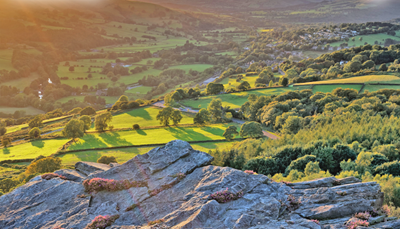 Peak District Challenge 2019
Join #TeamNSPCC in the heart of one of England's stunning National Parks.
Join our team